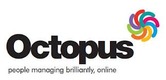 Filter Ratings and Reviews
Filter 2 vetted Octopus HR reviews and ratings We use Octopus HR to keep track of our employees. They're able to request days off, as well as use it as a tool to write their personal plans which their yearly bonus is based off of. It's being used by our 5 offices globally, our HR departments mainly set up new user accounts and managers in all departments use the program to aid in supervising their teams. Since it keeps track of our 400+ employees in an organized fashion, people are easily able to find one another's e-mails and contact information without much wasted time.
It's simple. I really appreciate that the layout of Octopus HR isn't something I have to question. I know where to look for something because it's clearly labeled, that's more than I can say for a lot of other HR systems I've seen.

Support. If I ever have a question about setting something up, or if something goes wrong, they're always on top of it. For instance, I had no idea how to set up employee photos on our accounts. I tweeted them and they responded right away, I'm based in LA and they're a UK company, I was impressed that they were able to respond right away. They make sure their customers are taken care of.

Great self guide. If there's ever an ordinary question I need answered their "Octopus Guide" is very thorough and walks you through everything.
Adding employee photos. That's definitely something I think is hard to figure out on your own.

An easier way for users to retrieve their passwords. Sometimes I notice even when employees put in all the correct information, the system doesn't recognize it.
I would definitely recommend Octopus HR if companies need every employee, not just one HR team, to use it. I think it's too much and would suggest something like
Taleo
for one team to use.
Key questions would be: Do you need a simple platform? Are you using this just for your HR team or will everyone need access? Is the way employees request PTO at your company disorganized?
Read this authenticated review
Octopus HR Scorecard Summary
About Octopus HR
UK company Octopus HR offers their eponymous platform for total HR functionality and automation.
Octopus HR Technical Details
| | |
| --- | --- |
| Operating Systems: | Unspecified |
| Mobile Application: | No |