Welcome to TrustRadius
TrustRadius is a site for professionals to share candid opinions on business technology products to guide selection, implementation and usage decisions. Our members share real world insights through in-depth reviews, discussions and networking. All reviews are vetted by our researchers and every contribution rated by our community.
Plain-English, no-hype, comprehensive product directory
Our directory features over 700 enterprise software products from 470 vendors.
We are not a paid listing service. All known products within a category are listed by review count.
Our initial focus is on horizontal business applications, particularly social media management, marketing automation, and analytics.
Each product description includes key information such as free trial availability, public pricing information, available editions and modules, similar products, products which integrate, and other products from the same vendor.
If you have feedback, please use the comment tab on product and category pages.
In-depth, vetted, structured product reviews
You must register to write a review or comment so that we can authenticate you and provide some context about you to readers.
You can begin a review and return to it at any time. The system will save it as draft and prompt you.
Vendors are excluded from reviewing their own company's or competitors' products, but are encouraged to comment on reviews of their own products using a public profile.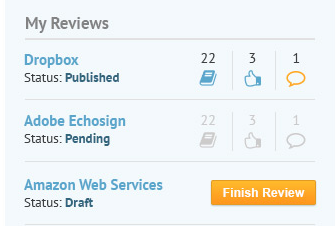 Reviews follow a structured format and there are three options:

Basic - 7 questions – covers overall product satisfaction.
Medium - 20 questions - touches on all areas of product ownership, satisfaction.
Full - 40 questions - provides a detailed review of product satisfaction, customer service, and implementation.
Your review will be staged for approval before it is published. We might ask you a few follow-up questions to clarify statements or request more detail. You provide final approval.
You will be notified by email and on your homepage when someone reads, likes, or comments on your review.
Follow products, categories and people
Click on the Follow button on category, or product pages, on reviews, or on member profiles.
When new content is posted you will be notified on your homepage and via email per your settings.
Reviews relevant to you will be presented on your home page
Add your system expertise
Share your system expertise with fellow community members.
It's simple to add, delete products or modify your experience level. You can update your expertise here.
Privacy settings that meet your needs
TrustRadius respects member privacy and has the following privacy settings:

Public (Default): Your name and company are displayed.
Anonymous: Your name, title, and company information are hidden from other users.
Note: Anonymous profiles still display high-level demographic information (e.g. "IT Manager at a Pharmaceutical company with 10,001+ employees") but no personally identifiable information

Any content you contribute (reviews, ratings, comments) will respect your default privacy setting, and you may also make individual items anonymous on a case-by-case basis. Private reviews will not be shown in your profile.
You can change your global privacy setting here.