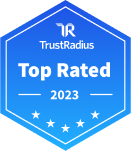 Top Rated Products
(1-3 of 3)
The Cisco Catalyst 9100 Access Points includes the 9115 and 9117, and designed to meet high demand network access.
Cisco offers wireless LAN.
Explore recently added products
Wireless LAN Tools TrustMap
TrustMaps are two-dimensional charts that compare products based on trScore and research frequency by prospective buyers. Products must have 10 or more ratings to appear on this TrustMap.
Learn More About Wireless LAN Tools
What are Wireless LAN Solutions?
Wireless LAN (WLAN) solutions allow users to connect to a network using a wireless radio frequency (RF). There are two main versions: on-premises WLAN and cloud WLAN. On-premises WLAN offers better performance and stability, but cloud WLAN gives users more flexibility when managing multiple locations.
Wireless LAN Solutions Features & Capabilities
Merchant Silicon
Zero-Touch Provisioning
Layer 7 Visibility
Access Point (AP)
Automated Backups and Alerts
Real-Time Security Monitoring
Wide Access Network
Networks are created by connecting nodes (usually individual computers or printers) to each other using a central hub, which processes and distributes information. LAN stands for Local Access Network, meaning all of the nodes are in the same general location, like a building or campus. For locations that are further apart, users connect to a WAN, or Wide Access Network.
On-premises WLAN
On-premises WLAN is the best choice when it comes to performance and overall quality because it offers the most consistent connection. It is also the most customizable, with more flexible options for network design and deployment.
Vendors of on-premises WLAN offer hardware tailored to a company's needs, like custom wireless chips and specialized antennas. To ensure consistency, sellers and resellers refer to the new pieces as "merchant silicon," meaning they are created based on industry standards and do not vary between vendors. The hardware improves performance and wireless stability, but it does increase costs significantly.
On-premises WLAN provides support for existing wi-fi hardware, which can help ease the transition from a wired system. However, any hardware must be managed locally, meaning IT support is needed in each location to adjust settings, perform maintenance and install updates. This can create significant issues for companies working between multiple branches.
Cloud WLAN
For companies looking to connect multiple branches, cloud WLAN offers a way to manage them all from a single location. Many cloud vendors provide tools like automatic updates, simplified backups, and alerts that make it easier for one IT vendor to support multiple sites.
One important feature of a cloud-based system is Layer 7 visibility, meaning that user data can be categorized by application. This allows users to limit bandwidth from non-essential applications and optimize network performance for more critical functions.
Cloud WLAN relies on an internet connection for network access, removing the hardware limitations of on-premises WLAN. To make matters even easier, some cloud WLAN equipment comes with zero-touch provisioning, meaning the vendor pre-configures the network settings before hardware is shipped. Once it arrives, the equipment essentially installs itself.
Cloud WLAN does offer more management options than the on-premises version, but there are definite limitations when it comes to performance. Since the cloud relies on an internet connection, service interruptions and outages can have a huge impact.
Physical barriers can also disrupt a cloud WLAN network. Typical workplace obstructions like cubicles and drywall should not be an issue, but setups in warehouses, retail outlets and outdoor spaces may require additional hardware and software.
WLAN Security
Wireless networks require more security than a wired system. One way to secure a cloud WLAN system is to install a third radio frequency (RF). Most WLAN systems only utilize two access points for communication (one at 2.4 GHz and one at 5GHz), but a third frequency would allow for real-time security monitoring.
Companies should also consider how application and cloud data is stored. Any data that is stored locally can still be accessed in case of a WAN (wide access network) failure. However, any data stored remotely will be inaccessible if the WAN network fails. Companies working with sensitive information should consider a WAN redundancy for critical sites.
Pricing Information
Determining the full price of a WLAN network setup is difficult to determine because it has a lot of moving parts, including routers ($60-$250), access points ($30-$300), security gateways ($127-$300) and switches ($70-$1000+). Most vendors also require an annual subscription, based on the number of APs in the network (usually $100-$250 a year). Depending on hardware capabilities and network complexity, prices vary widely.
Security features can be an added expense. Companies can add an a la carte option to their existing network, but the most cost effective option is to choose a vendor that offers end-to-end network infrastructure.
The following Wireless LAN Tools offer award-winning customer relationships, feature sets, and value for price. Learn more about our Best Of Awards methodology here.
Frequently Asked Questions
What businesses benefit most from WLAN solutions?
In the past, a WLAN solution was essential for any business. As more work forces become remote, however, there are some businesses that can do without. The more workers you have in an office, though, the more important WLAN is.
Can a WLAN solution connect branch offices?
A WLAN solution can be used to connect multiple branch offices. This allows for easy setup while connecting large businesses even across long distances.
How much do WLAN solutions cost?
WLAN solutions include multiple components, from hardware like routers and access points, to the software that makes the system work. Businesses should expect to pay at least a few hundred dollars up front, in addition to a monthly fee for the software portions of the solution.