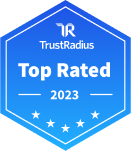 Top Rated Products
(1-1 of 1)
Scale Computing offers edge computing, virtualization, and hyperconverged solutions for customers around the globe. Scale Computing HyperCore software promises to eliminate traditional virtualization software, disaster recovery software, servers, and shared storage, replacing these…
Explore recently added products
Learn More About Edge Computing Software
What is Edge Computing Software?
Edge computing software is designed to allow businesses to manage data and run applications at the edge of their network, instead of through a centralized data center. This is particularly useful for businesses with a variety of branch offices in different locations. Edge computing allows each office to run mission critical software on site, instead of connecting to a central office. As a result, any software issues can be isolated to a single office, instead of impacting the entire business. Additionally, running software at the edge of your network reduces latency and improves performance.
Edge computing software is an excellent tool for businesses that value reliability and real-time control over their business software at each location.
Edge Computing Features & Capabilities
The following features are some of the most common offered by edge computing software:
Improved software uptime

Improved latency

Local software management

Data processing
Edge Computing Pricing
Pricing for edge computing software depends primarily on two factors. First, the number of locations you need to implement the software at. Second, what each implementation entails. Businesses just doing virtualization might find their implementation to be less expensive compared to a business that wants to handle virtualization along with data management and administration of a suite of business applications.
Frequently Asked Questions
What businesses benefit most from edge computing software?
Edge computing software is most beneficial for businesses that use a wide variety of business critical software across multiple branches or locations. Edge computing will improve uptime at every location.
Is an edge computing tool necessary for businesses that already have a functioning network?
Even if your business already has essential business software running on a centralized network, edge computing can improve performance. While it may not be strictly necessary for every business to have an edge computing solution, it is always worth considering if the benefits are worthwhile.
Can I implement edge computing at some, but not all of my branches?
Businesses can implement edge computing at as many or as few of their locations as needed. This can allow businesses to test edge computing in a few locations before scaling it, or only using it at offices where availability is most important.