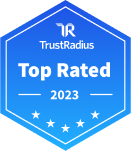 Top Rated Products
(1-1 of 1)
Exclaimer is a provider of email signature solutions, empowering businesses to unlock the potential of email as a key digital advertising channel. With its tools, organizations can simplify the management of email signatures to deliver consistent branding, promote marketing campaigns…
Explore recently added products
Learn More About Email Signature Software
is Email Signature Software?
Email Signature Software allows you to centrally manage all employee email signature updates. Email signatures can be tailored to different roles and departments, providing email signatures with consistent formats across every device used by your organization. Important industry-specific and policy-guided disclaimers can be uploaded to help meet compliance requirements. European Union's highly strict GDPR, EULA, privacy policies, terms and conditions, etc.
Marketing teams can leverage Email Signature Software features such as promotional banners, email design templates, and targeted promotional messaging with campaign analytics. These features can help raise brand awareness and improve response and conversion rates when sending out emails to clients, partners, or potential customers.
Email Signature Software can be used by enterprises or small businesses across all industries, particularly by sales and marketing professionals looking to make a good impression on their target audience.
Categories related to Email Signature Software include Sales Email Tracking Tools, Secure Email Gateway Software, Email Spam Filter Software, and Email Marketing. These software solutions help businesses optimize other aspects of their email accounts such as cybersecurity, email tracking, and email marketing campaigns. Most Email Signature Software options will have some built-in security features like two-factor authentication.
Email Signature Software Features
Email Signature Software typically include the following features.
Automated signature generation
Central control of email signature updates
Customizable signature design templates
Drag-and-drop editor
Security features
Dynamic email disclaimers for legal compliance
Ad banner campaigns
Banner campaign analytics
Targeted promotional messaging
Social media icons
Support for animation, GIFs, and graphics
Integrations with business productivity suites
Mailbox cloud migration
Integration with contact directories
Email Signature Software Comparison
Given the large number of Email Signature Software options on the market, buyers should consider factors like integrations, security, and ease of use.
The most common integrations are with email services provided by Office 365, Google Workspace, and Exchange. While most Email Signature Software specialize in one or two of these integrations, Exclaimer and Newoldstamp can integrate with all three. Wisestamp also integrates with Mac and Yahoo Mail. CodeTwo Email Signatures is popular with Office 365 users.
To help customers meet compliance requirements for data protection regulations, Email Signature Software providers have increasingly sought to acquire security certifications such as ISO 27001 and ISO 27018. Certifications like these can help buyers decide whether Email Signature Software offers reliable data protection.
Demos or free trials are offered by several Email Signature Software providers and can help gauge how well a team adapts to using the different tools and feature sets. Certain features can also save time and effort. Features like one-click updates and drag-and-drop template editors require minimal training and can reduce IT overheads by making changes more accessible.
Some ABM platforms such as Terminus also offer email signature management solutions among several other non-email related features. Buyers should compare platform software options that offer email signature tools against point solution Email Signature Software, choosing the provider that best meets current business needs.
Start a Email Signature Software comparison here
Pricing Information
Many Email Signature Software offer custom quotes based on data needs and number of users. Free trials or demos are also common. Most prices range from $5 to $11 per month depending on billing cycles, but costs rise for larger companies if pricing is based on the number of users.
g
Frequently Asked Questions
What does Email Signature Software do?
Email signature software helps companies unify and centrally manage employee email signatures and disclaimers. This allows employee signatures to be used as low-cost marketing and branding tools.
What are the benefits of using Email Signature Software?
Benefits of using Email Signature Software include branding, compliance, time saved updating email signatures, and lower IT administration costs.
What are the best Email Signature Software products?
The best Email Signature Software products include:
How much does Email Signature Software cost?
Starting prices can be as low as $5 to $11 per month, but many Email Signature Software offer customizable pricing based on the number of users and data requirements.