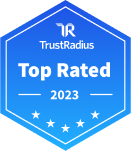 Top Rated Products
(1-5 of 17)
All Products
(1-25 of 923)
Explore recently added products
Collaboration Tools TrustMap
TrustMaps are two-dimensional charts that compare products based on trScore and research frequency by prospective buyers. Products must have 10 or more ratings to appear on this TrustMap.
Learn More About Collaboration Tools
What are Collaboration Tools?
Online collaboration software makes working together on professional projects easier and faster. It reduces bottlenecks in feedback and approval processes and allows for real-time communication. The three core areas of functionality for collaboration tools are:
Communication
Project & task management
File sharing & management
Some products stress one feature set over another. These take a best-of-breed approach, and work well if they offer integrations. For example, Slack is an online team collaboration app focused on messaging and file sharing. It also includes audio and video conferencing capabilities. For everything else, it integrates with other software tools.
Because they each have slightly different specialties, many of the tools above are not perfectly comparable. Depending on your business needs, you may want to invest in a few different types of collaboration tools. For example, many teams use a messaging application like Slack for casual communication and also use web conferencing software to host online meetings.
Online collaboration tools are closely related to a number of other types of software, including:
All of these platforms include collaboration features, though most are limited to a specific channel or type of interaction.
Sometimes collaboration tools can replace these more traditional solutions, but it is more common to integrate collaboration tools with existing communication and workflow structure. Often collaboration tools bring interactions that would otherwise be handled by separate platforms into a convenient central location.
Collaboration Tools Features & Capabilities
Communication
Some collaboration tools have communication capabilities at their core. Examples of online communication tools that specialize in this are include:
Other collaboration features are available but may have a limited scope. Communication features across collaboration tools include:
Options for integrated messaging. Live chat, comments within a file and private/group messages are all common
Privacy and access settings
Conference calling
Video chats with screen sharing
Project-based conversations
Project & Task Management
Another class of online collaboration tools have underlying project and task management capabilities at their core. These tools may not be as advanced as traditional project management platforms. However, they can be incredibly useful for online team collaboration and communication.
Examples of collaboration tools noted for significant project & task management features include:
Some products walk the line of collaboration and project management. For example, Wrike has many robust project management features, but it's designed like a social network to make engaging with team members easy.
Access to advanced project management capabilities is usually more important for larger or interdepartmental teams. Collaboration features related to project & task management can include:
Workflow automation
Tracking location and changes to a file
Brainstorming tools/pinboards
Task lists and assignments. These are complete with due dates, sub-tasks and file attachment
Scheduling, calendar integration, reminders and alerts
Gantt charts
File Sharing & Management
Other online collaboration tools focus on document storage, sharing, and management. Examples of these products include:
They also offer significant opportunities for collaboration. Collaboration features central to file sharing include:
Security
Support for different file types
Comments and notes attached to files
Track changes and versioning
Editing permissions and access control
Shared folders
Online Collaboration Tools
Locally hosted collaboration solutions (like Redbooth Private Cloud) are less common than online SaaS collaboration tools. Online solutions are more abundant and often more convenient for end-users. They work particularly well for remote teams and employees who need to collaborate on common tasks.
They come in many forms, from mobile apps to browser extensions.
Some tools are industry and use case-specific. For example, Mural.ly and ConceptBoard are tools for graphic designers. On the other hand, Microsoft Yammer is more like a social network for corporate enterprises, regardless of department or industry. Other use cases for collaboration software include:
Creating an internal knowledge base for employees with a product like Confluence
Creating flow charts or mapping out ideas visually with a product like MindMeister
Creating group to-do lists with a product like Trello
Adoption
Adoption is key to success with collaboration software. It is only effective if everyone on the team is on board with the software.

It is important to choose a collaboration tool that is easy to use. The tool should also fit your team's culture and goals. There are dozens of collaboration products on the market -- and it's ever-growing!

To help you find a good fit, consider these questions:
What types of projects will you collaborate on?
What are the steps of a typical project?
How does your team handle communication and workflow?
Where do you store project files?
How many people will be collaborating? How many departments?
Will project managers or team members be collaborating? Both?
What other platforms and apps does your team use? How does the tool handle integration?
How formal or informal will collaboration be? Will all discussions be related to work on specific projects, or will some be social?
Will all conversations be archived?
Collaboration Tools Comparison
To help you more easily compare different types of collaboration tools, consider these 3 key factors:
What's the main purpose this tool will serve? For example, are you looking for an easy to use team instant messaging app? Or do you need a web conferencing tool that will be easy for employees and clients to use? Or maybe you're looking for a new company intranet, or file and document sharing solution. Figuring out what business need(s) the tool will serve will help you identify which set of collaboration tools to evaluate.
Ease of use, which helps determine how widely adopted the software will be, is highly important. If you invest in a collaboration tool that has a steep learning curve, it's less likely to be adopted by the rest of your team. Look for tools that have high 'usability' ratings on the product scorecard tab on TrustRadius to help narrow down the list of products you're considering.
What does your budget for collaboration and communication software look like? This will likely depend on whether you are self-employed, a contract worker, an SMB, or an enterprise business. Many collaboration tools in this category have either free versions or free trials for your team to test out. However, if your business needs a very budget-friendly solution, look for tools that have a 'forever free' option.
Start a comparison between collaboration tools.
Pricing Information
Collaboration software is usually priced by user on a monthly subscription.

Most vendors offer a free tier for up to a certain number of users. The free tiers usually have a more limited set of features and capabilities. There are many basic free online collaboration options, including GoVisually, Trello, Podio and Google Drive for example.

For paid plans, pure collaboration tools focused on notes, tasks, and chat start around $8/mo. per user. For collaboration tools that include cloud storage, pricing starts at around $10/mo. per user, and goes up from there based on storage size.
Frequently Asked Questions
What are collaboration tools?
Collaboration tools help teams communicate, manage projects and tasks, and share and store files more efficiently. Not all online collaboration tools have the same set of capabilities, specific tools may specialize in one of the three areas above. Common use cases for collaboration software include:
Online meetings

Team messaging

Project & task management

File storage

Collaborative content creation
What are some examples of different types of collaboration tools?
Examples of collaboration tools that focus on enabling business communication include:
Slack
,
Microsoft Teams
,
Google Hangouts
,
Fuze
,
Lifesize Video Conferencing
, and
Skype
. Collaboration Tools that emphasize project & task management include:
Trello
,
Airtable
,
Asana
,
Basecamp
,
Wrike
, and
Monday
. Products that offer file storage and management features include:
Google Drive
,
Dropbox Business
,
MS SharePoint
, and
Confluence
.
What are the best collaboration tools?
The Top Rated collaboration tools in 2019 include:
Learn more about these products and other online collaboration tools here.
What are some free online collaboration tools?
Many collaboration software products have a free version available, though typically with more limited space or functionality. Popular free tools for small teams or SMBs include:
How much does collaboration software cost?
Along with free versions of the software, many collaboration tools range from $5 - $40 per user per month. Enterprise tier plans may cost more, depending on how many user licenses your business needs. Collaboration tools that provide cloud storage space may also increase based on the amount of space required.