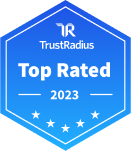 Top Rated Products
(1-2 of 2)
Okta is an enterprise grade identity management service, built in the cloud. IT can manage access across any application, person or device. Whether the people are employees, partners or customers or whether the applications are in the cloud, on premises or on a mobile device, Okta…
The SAP Customer Data Cloud, based on Gigya (acquired by SAP in 2017) is a product suite that allows users to identify consumers, business customers, or partners across devices and channels to drive registrations and engagement; manage access, permission, and consent; and transform…
Learn More About Social Login Tools
What are Social Login Tools?

Social Login Tools, or social sign-on, are a relatively new class of software that allows a visitor to a website, or a potential or present customer to an online store, to instantaneously register for a personal account with the service provider using their pre-existing social website credentials.
Beyond the obvious benefit of easing and speeding registration for one's customers, this process intrinsically connects the customer's social sphere, and all the information in this realm, to the merchant's knowledge of that customer. This is useful, for guiding more intelligent advertising efforts.
Social Login Tools Features
Social Login Tools share the following identifiable features:
Link to pre-existing user accounts

Instant username and password verification

Pre-filled registration information

Targeted advertisements

Reports/analytics for user data

Use of plug-ins or widgets to connect social media accounts
Social Login Tools Comparison
When comparing Social Login Tools, consider the following factors:
Security: Users have concerns about the security of their profile data. Choose a Social Login Tool with enhanced security to avoid data breaches.

Analytics Tools: The tools are used to segment user data and create personalized marketing campaigns.

Login Preferences: Social Login Tools should include links to frequently used accounts, such as Facebook and Google.
Social Login Tools Price
Social Login Tool vendors charge a monthly or annual subscription fee. Some Social Login Tools offer free subscriptions with limits on the number of users. Subscription fees can range from $2/month to $130/month, depending on the number of accounts and feature sets. There may be additional fees based on the amount of registrations per year.
Frequently Asked Questions