Security Orchestration, Automation and Response (SOAR) Tools
Security Orchestration, Automation and Response (SOAR) Tools Overview
Top Rated Security Orchestration, Automation and Response (SOAR) Products
These products won a Top Rated award for having excellent customer satisfaction ratings. The list is based purely on reviews; there is no paid placement, and analyst opinions do not influence the rankings. Read more about the Top Rated criteria.
Security Orchestration, Automation and Response (SOAR) Tools TrustMap
TrustMaps are two-dimensional charts that compare products based on trScore and research frequency by prospective buyers. Products must have 10 or more ratings to appear on this TrustMap.
Security Orchestration, Automation and Response (SOAR) Products
(1-25 of 42) Sorted by Most Reviews
The list of products below is based purely on reviews (sorted from most to least). There is no paid placement and analyst opinions do not influence their rankings. Here is our Promise to Buyers to ensure information on our site is reliable, useful, and worthy of your trust.
Learn More About Security Orchestration, Automation and Response (SOAR) Tools
What are Security, Orchestration, Automation and Response (SOAR) Tools?
Security, Orchestration, Automation and Response (SOAR) tools are software that automate security workflows or provide instructions (playbooks) for repeatable security operations tasks. These playbooks ensure that response operations remain consistent with policy and are executed with minimal error. In achieving this, SOAR tools include or ingest information from SIEM, security operations analytics tools, and security forensic tools for post-incident analysis and process improvement. Their functionality overlap with Incident Response Platforms, which also provide playbooks for security operations, but with an emphasis on particular rare but damaging cases (i.e. incidents) rather than recurring operations.
SOAR tools have two core functions. The orchestration process takes security data inputs and determines what operations should be activated in response to the data. The actions that the SOAR tool can take are determined by the security systems it's connected to and how robust an operations playbook the organization/SOC team has provided the system. The automation functionality ensures the appropriate actions taken based on this playbook without requiring SOC team intervention.
Security, orchestration, automation and response tools are most heavily used by large organizations and enterprises. These scaled businesses tend to have a large number of security systems and recurring security actions that need to be taken. SOAR tools centralize the repeatable actions that need to be taken across these disparate systems that would otherwise require manual activities.
SOAR tools provide a range of benefits. The two primary benefits are scalability and analyst productivity. By automating repeatable security actions, a high volume of tasks are taken off SOC teams' workloads. This reduces human error in remediation efforts and improves Mean-Time-To-Respond (MTTR). SOAR products also improve analyst productivity by allowing analysts to focus on more specialized tasks and value-add activities.
SOAR vs. SIEM
SOAR and Security Information and Event Management (SIEM) systems are closely related but distinct products at their cores. SIEM systems focus on intaking security data, most commonly in the form of logs, and aggregates or normalizes that data into events. SOAR tools would then take that data and use it to determine what operations, if any, are necessary in response to a given event. The tools serve different functions, but are each necessary for a comprehensive, automated security posture.
Since SOAR relies so heavily on SIEM for usable data, an organization's SIEM and SOAR should be closely integrated. Some Next-Gen SIEMs also include SOAR capabilities natively, consolidating multiple steps in the security process into a single system. There are also plenty of standalone SOAR tools for organizations looking for a point solution.
SOAR Tools Comparison
When comparing different SOAR tools, consider these factors:
Standalone SOAR vs. Security Suite: Does the business need a full suite of security solutions, or just a standalone SOAR product? The latter will suffice if an SIEM and related products are already in place. If businesses are looking for more than a standalone solution, a Next-Generation SIEM may be able to deliver all of the features needed in a single platform.
Playbook Management: Consider how easy the operations rules can be established and managed over time. Ongoing maintenance and updates in the face of new policies and data can heavily impact long-term manageability.
Reporting: How easily can analysts report on events, data, and results of playbooks operations?
The following Security Orchestration, Automation and Response (SOAR) Tools offer award-winning customer relationships, feature sets, and value for price. Learn more about our Summer Best Of Awards
methodology here
.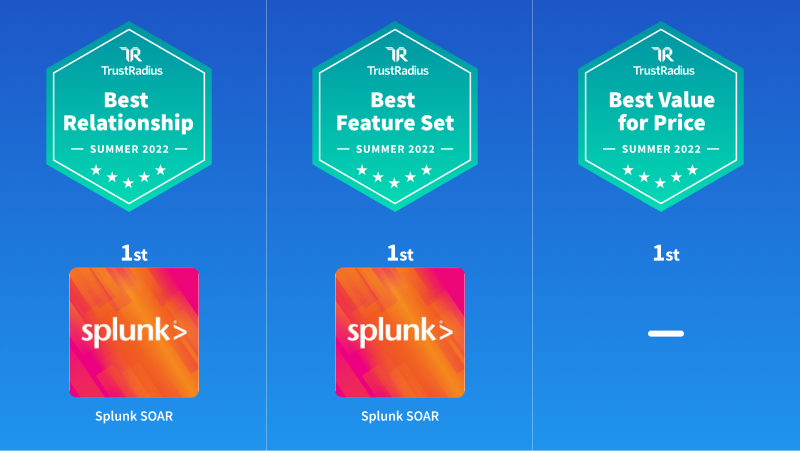 Frequently Asked Questions
What is security orchestration?
Security orchestration centrally determines what actions need to be taken across multiple security systems in response to a given event.
What is a SOAR system used for?
A SOAR system takes security data and determines what repeatable operations need to be taken in response to a particular security event.
What's the difference between SOAR and SIEM?
SIEM focuses on collecting and managing security data, while SOAR takes the data output from the SIEM and determines what actions should be taken in response.
SOAR is necessary if there are a number of recurring security actions being taken manually that are limiting the SOC team's productivity and MTTR.