Technology Review Platforms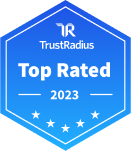 Top Rated Products
(1-2 of 2)
Virtually 100% of B2B tech professionals want to self-serve and control their buying journey. Influence, engage, and win them on TrustRadius. The only decisioning platform built for modern buyers.
TrustRadius delivers the most credible B2B technology decisioning platform, helping buyers confidently make decisions with comprehensive, vetted product information and customer-generated content.
Explore recently added products
Learn More About Technology Review Platforms
What are Technology Review Platforms?
Technology review platforms are websites or applications designed to allow users to review B2B technologies. These platforms enable vendors to promote trusted reviews from authentic users and connect with potential customers. Since reviews are the #1 most used resource by enterprise buyers before speaking with a vendor, and many businesses are purchasing products without ever speaking with a vendor, technology review platforms can help vendors instill confidence in their buyers. By driving reviews vendors ensure that their buyers find all the information they need from user feedback to make a confident decision.
Technology review platforms have different processes for accepting reviews. Some platforms allow for anonymous reviews, while some require reviews to be public. Additionally, technology review platforms offer varying degrees of review vetting. Technology review platforms with minimal vetting can receive fake reviews, so many businesses prefer technology review platforms with robust review verification processes.
Most Technology review platforms offer services beyond just generating reviews. Many platforms provide vendors with leads, either through clicks to the vendor's website, lead forms, or intent data. Intent data is based on the behavior of buyers, meaning technology review platforms can identify companies that are likely to be interested in a vendor's product. Technology review platforms may also provide custom questions, customizable product profiles, CTAs pointing to vendor websites, and syndication of review content. Businesses can use all of these features to target potential buyers and deliver product information to them in a trustworthy manner.
Technology Review Platforms Features & Capabilities
Review generation
Custom review questions
Reputation management
Buyer intent data
Custom CTAs
Audience retargeting
Customer quotes
Content Syndication
Content licensing packages
These features mean review platforms help vendors influence buyers, build new pipelines, accelerate deal cycles and derive new insights about their product.
Pricing
Pricing for Technology Review Platforms depends on the vendor. Different technology review platforms offer different feature packages and can provide pricing as needed. For most sites, having your products posted to be reviewed is free. Some technology review platforms are self-service platforms, while others include managed services with dedicated customer service managers.
Businesses can always manage their reputation by claiming and enhancing their profile on TrustRadius for free. Additionally, businesses can utilize our programs to help qualifying vendors drive more reviews. For vendors who want to drive demand or maximize ROI from content, subscription packages start at $20K per year and go up depending on the products and services involved. Businesses can contact our sales team for exact pricing information.
Frequently Asked Questions
What are the best business technology product review sites?
Are online reviews trustworthy?
Many online reviews are trustworthy, but the trustworthiness and quality may vary by review site. All leading review platforms provide some level of verification that reviewers are real users, but the quality of that vetting process will vary site-to-site. Many sites will publish their specific standards and criteria for publishing a review on their platform.
How do I collect customer reviews?
Vendors can reach out to their user bases directly via email campaign, embedded invitations in their product, social outreach, and other tools to encourage users to leave reviews on a given review site. Many review sites will also offer paid services to handle review sourcing and outreach.
Where should I put reviews on my website?
Vendors should place review content where their buyers are most likely to see them. This includes a vendor's or product's home page, landing pages, or hosted lead forms. The goal should be to get as much buyer visibility on the vendor's reviews as possible.
B2B intent data consists of the signals that buyers intend to purchase technology. Review platforms (and other organizations) receive these signals from buyer activities on their platforms. The scope and granularity of intent data may vary, but it should be able to identify individuals or organizations that are in a buying cycle for a type of software or technology, as well as more granular details.