Phishing Detection and Response Software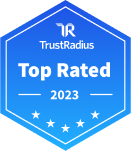 Top Rated Products
(1-1 of 1)
Avanan, from Check Point since the August 2021 acquisition, connects security technologies to enterprise cloud applications in order to improve protection of sensitive corporate data and IP. According to the vendor, Avanan's one-click deployment allows customers to deploy a new security…
Learn More About Phishing Detection and Response Software
What is Phishing Detection and Response Software?
Phishing detection and response software is a set of cybersecurity tools that allow organizations to identify and remediate phishing threats before the phishing attack can cause damage. It is a subset of the broader threat detection and response security space. Phishing is a specific social engineering attack, frequently conducted over the phone or via email, where an attacker attempts to trick a target into giving personal information, often login credentials or financial information.
Phishing detection and response tools provide a range of benefits to businesses. In addition to reducing phishing attacks on the organization, phishing detection tools reduce the number of reported false positives that administrators must manage. They can also automate various routine remediation processes in response to threats, saving admins more time and reducing the time it takes to identify and remediate high-tier vulnerabilities or breaches.
Types of Phishing Detection and Response Software
There are two primary avenues of phishing, and two corresponding segments of phishing detection and response software. The most common form is email phishing, or spear-phishing, where attackers impersonate an organization or authority figure, like an IT department, to convince targets to submit passwords in order to gain access to business systems. These attacks can also introduce malware to business devices and systems. Most phishing detection and response software focuses on addressing this form of phishing.
There are also phishing sites that impersonate entire websites, including branding and other site features, to convince site visitors that they are actually on that brand's official website. This second segment of phishing is most commonly addressed by phishing tools that market to brands trying to prevent impersonators from damaging their reputation with scamming.
While phishing attacks focus on social engineering, phishing detection and response software utilize various technologies to identify and remediate these attacks. The most common method is for the software to scan incoming emails, or other communications across a network, for various phishing threats and automatically respond to detected threats and/or surface the risk to IT administrators for manual remediation.
There are a range of specific mechanisms that phishing detection tools can use, and many will use more than one. Some of the most common include:
Domain identification

Header analysis

Link analysis

Attempted impersonation features

AI analytics to proactively identify suspicious behavior patterns

Cross-referencing with known threat libraries, often manually updated by security experts

End-user reporting
Phishing detection and response tools also provide an organization-wide view of incoming threats and attacks. This centralized management allows security specialists and IT administrators to more efficiently prioritize and address surfaced threats.
Phishing Detection and Response Software Comparison
When comparing different phishing detection and response tools, consider these factors:
Email vs. Website Phishing: Does each product primarily protect against email phishing or website phishing? They each serve distinct use cases. Email phishing-focused products prioritize threats to the organization that are attempting to compromise the business directly. In contrast, website phishing-focused software helps businesses identify and remediate impersonations of the business itself that are targeting the business's users or customers.

Point Solution vs. Email Security Suite: Does the business need a phishing-focused solution to target specific security weaknesses, or is there a broader need for comprehensive security? This distinction will help buyers choose between a phishing solution or an email hosting or security package with additional firewall, hosting, or other features.

Detection vs. Prevention: What kind of automated capabilities does each product have? There's significant variation in how much automated remediation in particular each product offers, from automated alerting to incident prioritizing to automatic quarantining suspicious content. While these features can improve security, they can also cause inconvenience in the day-to-day business operations. Consider peer feedback around how automated remediation and prevention features are, as well as whether there have been any business disruptions caused by overzealous automation.
Frequently Asked Questions
What does phishing detection and response software do?
Phishing detection and response software automatically identifies potential or known phishing threats and takes some level of automated action to remediate the threat.
What kinds of phishing attacks are there?
The main kinds of phishing attacks either contact targets via email or the phone and impersonate authority figures, or they impersonate entire websites to trick site visitors into thinking they are on the official website.
What are the basic methods used to identify fake phishing?
The main methods of identifying fake phishing include AI analysis of incoming email content, comparing content to libraries of known threats, and end-user reporting of suspicious websites or emails.
Who uses phishing detection and response software?
Phishing detection response is primarily managed by SOC teams or IT administrators, but is also used by line-of-business users who can identify suspect content.
What are the benefits of phishing detection and response software?
Phishing detection and response software reduces the time to remediate phishing attacks, lowering the threat to the business. It also saves IT administrators time managing false positives and prioritizing critical threats.