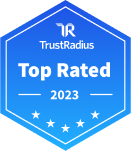 Top Rated Products
(1-2 of 2)
Azure Data Lake Storage Gen2 is a highly scalable and cost-effective data lake solution for big data analytics. It combines the power of a high-performance file system with massive scale and economy to help you speed your time to insight. Data Lake Storage Gen2 extends Azure Blob…
IBM Cloud Object Storage is an IBM Cloud product in the endpoint backup and IaaS categories. It is commonly used for data archiving and backup, for web and mobile applications, and as scalable, persistent storage for analytics.
Object Storage Solutions TrustMap
TrustMaps are two-dimensional charts that compare products based on trScore and research frequency by prospective buyers. Products must have 10 or more ratings to appear on this TrustMap.
Learn More About Object Storage Solutions
What is Object Storage?
Object storage (also known as object-based storage) manages data as distinct units called "objects." Each object includes the data itself and a variable amount of metadata, which is the characteristics of the data. Object Storage also includes a unique identifier that allows the object to be easily searched. Object Storage is geared toward retaining large amounts of unstructured data, which typically includes media files, artificial intelligence data, and website content. Object Storage is usually offered as a cloud-based service, meaning that objects can be accessed virtually anywhere with limited interruption.
A key aspect of object storage is its ability to separate and manage the metadata of the file. This metadata can include information such as file type, the type of hardware or software used, last modified date, people or organizations featured in the objects, and so forth. As a result it allows for deeper analysis of the use and function of data. Additionally, the metadata can be edited and customized, which benefits users by allowing for more specific resource management. Every time the metadata is altered, a new object is created, which contributes greatly to data recovery.
Object storage also allows limitless data scalability because it is hosted in the cloud and has no built-in limits on the way the data is categorized. Thus, it can hold much larger volumes of information than you may find with block- or file-based storage. Combined with the fact that object storage can start small and build out further, it makes it a cost-efficient storage solution by allowing you to only pay for more space when it is absolutely needed.
Object storage is often contrasted with block storage , which divides data into manageable "blocks" that comprise the entirety of the stored file. Block storage doesn't store or manage metadata, which gives it less applicability for unstructured data. However, Block Storage is more efficient for volumizing data from static files and structured data because it doesn't manage any metadata beyond basic file typing and thus is less likely to replicate as quickly as object storage.
Object Storage Solutions Features
Most object storage products have the following features:
Data replication and back-up
Data and object lifecycle management
Data retrieval through API or http/https
Disaster recovery
Durable performance
Data performance monitoring
Automated data integrity checks and issue resolving
Storage transition support
User access management
System log generation and storage
File manager interface
Scalable pricing
Server-side encryption
Third-party and external hardware integration
Object Storage Solutions Comparison
When choosing an object storage product, consider the following:
Data Type. The type of data you want to store, as well as how frequently you want to access that data, will be a major factor in choosing the best object storage solution for you. If you're looking for a solution to host media files or static websites, almost every option will be a good choice for you. However, if you're looking to store application or software data, Vultr allows for immediate data retrieval, making it a great choice for developers working from the cloud..
Data/Access Frequency. How frequently you plan to access your data is an important consideration, as this can determine subscription pricing and file retrieval speed. Data that you plan to access most frequently - such as a web content or video files - will need more low-latency support than data you won't access frequently, such as archived data, AWS S3 and Google Data Cloud offer multiple plans to address these concerns.
User Access Features. If you plan to share the object data, you may want options that allow you significant control over who can access data, which data they can access, and how long they can access it. OpenIO can create a temporary URL that expires after a set time, making it a great option for businesses that sell digital media that can only be retrieved for a limited time.
Data Framework Compatibility. The effectiveness of an object storage solution can vary based on its compatibility with your data framework, which are the systems that govern data creation and management for your business. You'll want to make sure that your object storage and data frameworks have synergy, or you'll encounter issues with latency and security. LakeFS offers the widest degree of framework compatibility, including AWS Athena, Spark, and Hive.
Data Protection. All Object Storage provides data protection and security features to some degree, but the biggest deciding factor should be how effectively it deals with these threats. Ransomware is especially threatening to object storage because of how much information can be extracted from metadata. FlashBlade and Cloudian Hyperstore offer object safe modes that lock data access for a limited time, make secure backups in other locations, and delete potentially compromised objects.
Pricing Information
Object storage pricing can vary based on how much storage you plan to use, as well any additional features such as low-latency support. Many vendors offer free or low-cost pricing, but only for a set amount of storage. The typical price range for paid services ranges between $10 to $200 per month at the lowest subscription tiers.
More Resources
The following resources may be helpful for you when you are choosing a data storage solution:
The following object storage solutions offer award-winning customer relationships, feature sets, and value for price. Learn more about our Summer Best Of Awards methodology here.
Frequently Asked Questions
What does object storage do?
Object Storage stores data as "objects" with separated metadata. This metadata can be edited, customized, and categorized. It is mainly used to store unstructured data.
What are the benefits of using object storage?
The metadata management aspects of object storage allow for personalized storage and better search capabilities. Additionally, object storage allows for practically limited scalability, allowing for more and more data to be held.
How much does object storage cost?
Object Storage providers offer free and low-cost plans for limited amounts of storage space. Paid options range between $10 to $200 per month based on amount of storage used and access frequency.