Virtual Private Network (VPN) Solutions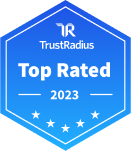 Top Rated Products
(1-1 of 1)
All Products
(1-25 of 129)
Explore recently added products
Videos for Virtual Private Network (VPN) Solutions
Best VPN for Your Business (Cisco AnyConnect, Citrix Gateway, OpenVPN Access Server)
03:43
In this video, the TrustRadius team goes over the some of the best VPN providers out there, discusses the pros and cons of each, and gives a high level overview of who would most benefit from using one of these VPN providers.
Learn More About Virtual Private Network (VPN) Solutions
What are Virtual Private Network (VPN) Solutions?
A virtual private network (VPN) is a service that securely connects an end user directly to a remote private network and its assets. The VPN hides the end user's IP address providing anonymity and privacy. Additionally, VPN connections are secured via encryption, preventing eavesdropping.
Virtual private networks provide several key benefits. The main benefit to organizations is the ability to securely send data from endpoint to endpoint since the encrypted data can only be decrypted by the recipient on the VPN. It also allows travelers to appear as if they are in their home region online. This helps them circumvent regional content locks and accessibility restrictions. It also allows businesses users to maintain privacy and confidentiality when not on their home or business network.
Virtual private networks can serve several purposes for organizations and their employees:
Secure remote connections to, or transfers of, data, communications, etc, such as remote workers using sensitive company data
Accessing region-restricted content, for employees who travel across different regulatory jurisdictions
Providing anonymity when visiting websites and using public networks/WiFi
Integrate with other security products for greater visibility into threats to your network and data
A subset of virtual private networks is the SSL VPN (Secure Sockets Layer Virtual Private Network). An SSL VPN provides a secure connection for remote users of applications and services via a web browser, without a need for additional desktop software. SSL VPN solutions can be deployed through appliances which may be used to deploy the VPN server. Standalone virtualized SSL VPN solutions are available, or SSL VPNs may be managed via a firewall.
Types of Virtual Private Networks
Virtual Private Network software's core definition is a service that provides an encrypted tunnel between a main network and an "end user." There are a variety of VPN setups and protocols, VPNs most commonly work in one of two ways:
Remote Access VPN- a remote access VPN is an encrypted tunnel between an individual using a device, such as a laptop, smartphone, or workstation, to connect to the corporate network. The individual's device is referred to as the "endpoint" the VPN connects to the main network. This setup is most relevant for securing individual remote workers
Site-to-Site VPN- also referred to as "branch office VPN", this encrypted connection is between a main corporate network or headquarters and remote branch office networks. The VPN tunnel is established between two VPN network devices, such as VPN routers. This setup is most relevant for organizations that need to securely connect entire office networks with each other.
Free VPNs
There are a number of theoretically "free" VPN products available. These are usually targeted towards small scale or personal use. However, these VPNs are able to sell the data that users send over the VPN. Free options will also offer less reliability and bandwidth, and they will likely have fewer global server options.
B2B users, especially businesses with more than a few employees, should leverage a paid product instead. Paid VPNs will offer much better privacy, security, and support options. They are also less likely to sell users' data to third parties, although buyer should verify this with each vendor.
VPN Comparison
When comparing different virtual private networks, consider these factors:
Reliability: Consider how reliable each VPN is, especially at scale. For example, will the VPN impact your traffic or connectivity? VPNs, if not properly deployed/managed, can interfere with permissions set in other systems. Some may also restrict bandwidth or throttle traffic speeds given the lagtime to encrypt/decrypt traffic within a VPN and resourcing to send data across the network itself.
Data Privacy: Some vendors retain the right to sell user data to third parties. For sensitive or personal data transmission, ensure that each vendor does not sell users' data.
Start a virtual private network comparison here
Pricing Information
VPN pricing can vary depending on whether vendors offer it as a standalone product or part of a broader security package, like a firewall product. Standalone pricing is usually per device per month, with a floor around $5-10 per device.
There are some free virtual private network products available for very small businesses. However, free VPNs are primarily designed for individual use. Free VPNs usually come with limitations on the number of devices that can be used and enforce data caps that many businesses will quickly scale out of.
Frequently Asked Questions
What is the purpose of virtual private networking?
Virtual private networking allows you to securely communicate with and transfer data to and from another user or network.
How does a virtual private network work?
VPNs encrypt your data when transmitting to an external source, preventing other users or networks from viewing or interfering with your data.
Yes. SSL, which stands for Secure Sockets Layer, is a form of VPN that creates a secure connection between an end user and a web browser, which then connects to an application or service.
What kinds of VPNs are there?
There are a variety of VPN types. The two most common are remote access VPNs, for individual use, and site-to-site VPNs, for securely connecting entire remote networks.
What are the disadvantages of using a VPN?
While not universally the case, some VPN providers can view and access your data sent via their service. Users may also experience slower internet speeds as using a VPN adds another step in the data transfer process.