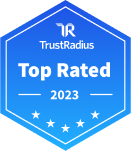 Top Rated Products
(1-5 of 5)
Explore recently added products
AIOps Tools TrustMap
TrustMaps are two-dimensional charts that compare products based on trScore and research frequency by prospective buyers. Products must have 10 or more ratings to appear on this TrustMap.
Learn More About AIOps Tools
What is AIOps?
AIOps, or artificial intelligence operations, is designed to automate business processes by actively supporting systems and react to system problems in real-time, while providing analytics to developers. AIOps tools utilize machine learning to automate the management of applications. Businesses use these tools to reduce the workload on developers and increase response time to issues like anomaly detection and dependency management that can be completely automated by AIOps.
AIOps is often confused with MLOps, but they serve different functions. While AIOps is used primarily to act on application data in real-time, MLOps tools monitor similar data for the purposes of building machine learning models. The tools can be used together for businesses that need both feature sets.
Features & Limitations
AIOps tools have varying features, but below are some of the most common features offered by products in the category
Application Monitoring
Anomaly Detection
Dependency Management
Process Automation
System Mapping
Pricing Information
Most AIOps tools don't offer transparent pricing information, but almost all are paid for via a monthly subscription. Of the AIOps that do offer pricing information, most start with price points of at least $500 per month, with higher pricing tiers included with more enterprise-level features. Many AIOps tools also offer free trials for two weeks to a month, so businesses can often try before they buy.
Frequently Asked Questions
What businesses benefit most from an AIOps tool?
AIOps is most beneficial for businesses that need to handle real time application monitoring and management. AIOps tools relieve businesses of needing to spend human resources on these tasks, freeing the operations team to work on other things. Businesses that don't make many application adjustments in a day may not need an AIOps tool.
If I have an MLOps tool, do I need an AIOps tool?
While MLOps and AIOps both aid in business automation, they serve different use cases. AIOps focuses on real time management of applications while MLOps focuses on building machine learning models. If you need to better automate application management, an AIOps tool is a good addition.
Are there free AIOps tools?
While many AIOps tools offer free trials for limited time periods, or very limited free versions, there are no feature-complete AIOps tools available for free. Businesses should feel free to try out free versions to see what product they like best, but should ultimately expect to have to pay for the tool they use in the long term.