Database-as-a-Service (DBaaS)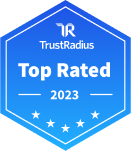 Top Rated Products
(1-4 of 4)
Explore recently added products
Database-as-a-Service (DBaaS)  TrustMap
TrustMaps are two-dimensional charts that compare products based on trScore and research frequency by prospective buyers. Products must have 10 or more ratings to appear on this TrustMap.
Learn More About Database-as-a-Service (DBaaS)
What is Database-as-a-Service (DBaaS)
Database-as-a-Service (DBaaS) is a cloud-based data management and storage solution hosted by outside vendors. These third parties take responsibility for providing deployment, management, configuration, and updating services for the database. DBaaS options can be Many DBaaS options also provide automated data backup and multi-cloud support features,
DBaaS forgo the need for on-premises, physical database solutions, making them efficient solutions for businesses with serverless architectures or limited IT resources. Additionally, since the vendor handles all management and administrative duties of DBaaS service, they reduce cost and labor expenditure for IT departments. DBaaS storage is scalable, so owners only pay for what they use, and they can adjust their service plans according to their needs.
DBaaS is essentially a platform that combines with to create an efficient and cost-saving solution for small- to medium-sized teams to handle their data storage needs
Database-as-a-Service (DBaaS) Features
DBaaS typically include the following features:
Data management

Automated synchronization

Data backup and recovery

Automatic failover protection
Customizable interfacing
Version history
Audit tracking
Customizable database coding
On-premises and hybrid deployment
Structured, unstructured, and semi-structured data support
Multi Cloud support
Multiuser support
Scalable pricing
Cross-cloud migration
Access role management
SLA compliance management
Multi Language support
Data use and access reports
Data relationship mapping
Database-as-a-Service (DBaaS) Comparison
When choosing the best DBaaS product for you, consider the following:
Data properties. The best DBaaS solution for you may depend on the type of data you intend to store. Some DbaaS facilitate better access speeds for certain data types. This is an especially important consideration if you intend to use DBaaS to house application development, as the right (or wrong) DBaaS can affect latency, accessibility, and security. For example, if you plan to store unstructured data like real-time application queries, media files, or data from the Internet of Things, you'll want to consider a NoSQL ("non-relational") DBaaS solution like .
Hybrid deployment. One of the benefits of DBaaS is its ability to eliminate the need for physical infrastructure to host your database. However, you may find value in a service that allows for on-premise storage, as that will increase your database access options. While this does increase cost, it may be offset by the ability to access stored assets if the DBaaS vendor experiences downtime. provides native cloud, multi-cloud, and hybrid services, granting a wide range of deployment options.
Data privacy. Regardless of which service you choose, you'll want to consider the security features of your DBaaS provider, especially if you plan to store sensitive information. If the data you work with is subject to privacy regulations like the GDPR or HIPAA, you'll want a database that is compliant with these standards. Otherwise, you run the risk of incurring steep fines or penalties. For example, hosts data servers in 50 different regions across the world, so make sure that you can ensure regulation compliance with this service.
Team size. You'll want to consider your team's size when choosing a DBaaS solution. There are many reasons team size is important, but the most immediate is because that will affect DBaaS cost. Pricing plans tend to consider the number of anticipated users or the amount of used storage. Both of these are directly related to the number of people using the database. If you have an enterprise-size team, you'll want to consider the pricing plans offered by services like , as they can create plans to reduce unnecessary expenditure. Conversely, smaller teams may find the free or per-user pricing plans offered by to be more economical.
Pricing Information
There are free plans for DBaaS use, which place hard limits on storage ranging between 512 MB to 15 GB, with comparatively limited upload speed, data recovery options, and other features compared to paid price plans. Paid price plans can vary between $25 and $100 per month per user at the lowest subscription tiers. Several plans instead charge for space used or per hour of uptime. Many vendors also offer customized pricing quotes.
More Resources
The following resources should be helpful in determining with DBaaS solution is best for you:
Frequently Asked Questions
Do you need to be able to write code to use a DBaaS?
DBaaS tools all use database engines similar to traditional database software. This means that many allow, or require users to write SQL code to perform queries. There are some DBaaS options that provide no-code solutions, so they can be used by businesses without significant IT resources.
What are the best DBaaS options?
The top rated DBaaS options include:
Are there free or open source DBaaS options?
While there are no open source DBaaS options, as all of them require a cloud service provider. Despite this, many DBaaS options are based on open source database engines such as PostgreSQL, and can be highly customized.
What features are included in DBaaS options beyond basic database features?
Many DBaaS options include security features that help keep sensitive data secure. Additionally, some DBaaS options include support for regulatory compliance, which can be keyu for organizations that need to comply with standards like GDPR and HIPAA.
What are the benefits of using DBaaS?
Since DBaaS are handled by the vendor, the owner doesn't need to expend resources to maintain physical server assets or ensure up-to-date server maintenance.