Identity Management Solutions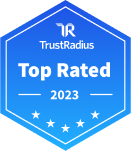 Top Rated Products
(1-5 of 5)
All Products
(1-25 of 273)
Explore recently added products
Videos for Identity Management Solutions
The Evolution Of IAM (Identity Access Management)
03:07
We take a look at its history and evolution; from the origins of the first computer passwords in the 1960s to congressional oversight in the 21st century like the Sarbanes-Oxley Act.
Identity Management Solutions TrustMap
TrustMaps are two-dimensional charts that compare products based on trScore and research frequency by prospective buyers. Products must have 10 or more ratings to appear on this TrustMap.
Learn More About Identity Management Solutions
What are Identity Management Solutions?
Identity and access management software manages information about the identity of software users and controls access to corporate resources. The overall goal of identity and access management software is to improve security and employee productivity. Identity management solutions should also lower costs while managing user identities and credentials.
Identity Management Solutions Features & Capabilities
Access (authorization or restriction of access to certain information to certain persons across locations and systems)
Single sign-on (SSO, describes the ability to login to the system once and only once, gaining access to all systems without the need for logging in again via help from a server)
Multi-factor authentication (using multiple, independent components to gain access, a simple step to increase security)
Password management and self-help for password users
Identity federation, related to SSO, access spanning system boundaries (e.g. cloud access)
Directory / User Repository Management for tracking of users with access
Security Analytics for auditing and compliance
Challenges from Distributed Identity-Based Systems
The modern IT environment is highly complex with large numbers of users accessing a tangle of on-premise and cloud applications. This makes identity and access management especially difficult. Each application essentially has its own proprietary identity store. Consequently, there is no directory federation, which burdens users with having to remember multiple logins. It burdens IT administrators with having to manage multiple different tools, procedures, and policies to manage user identities.
The latest solution to managing distributed identity-based systems is Identity-as-a-Service (IDaaS). IDaaS is a cloud-based service offered by identity management vendors that outsources identity management to the vendor, especially in regards to access management for SaaS applications. In most cases, employees and other end users utilize Single Sign-On to access all of their business systems and applications. The vendor handles all of the identity management and authorization protocols on behalf of the business, saving the organization maintenance and overhead costs in the process.
Identity Centralization and Privileged Access Management
Identity management solutions make it much easier to manage provisioning while ensuring compliance. In other words, providing and revoking access to applications in accordance with policies. Identity and access management software also supplies self-service capabilities for end-users, so that they can get the application access they need with no delays. They can also be automatically de-provisioned on the day they leave.
Identity management solutions also enable businesses to utilize more granular privileged access management (PAM). Privileged access management ties users' identities to specific privileges within different systems and applications. PAM capabilities limit the number of unnecessary access privileges that users have, minimizing the risk that comes with such excess privileges. Identity management software with PAM features, or standalone PAM products, also streamline privilege management for IT administrators, improving efficiency and security simultaneously.
Identity Management Solution Comparisons
There are some common factors to consider when comparing identity management solutions:
Identity management suite vs. password management solution: Many identity management solutions started out as password management tools which then expanded into identity management. These products will likely excel at ease of use and integrations with popular 3rd party systems. In contrast, identity management suites with a legacy of identity management will likely be more robust for complex or large-scale identity management needs.
User-focus vs. data security focus: same goals, but user-focus is more focused on making end-user's identity management processes easier. In contrast, data security is more aligned with privileged access management, which prioritizes minimizing the attack surface of a business's systems and data.
SMB vs. Enterprise Users: Many identity management products skew towards either the SMB or the Enterprise markets. SMB-focused products will likely be easier to use with a greater focus on efficiency and self-service, while enterprise products will be more scalable and robust for IT administrators. Buyers can consider the distribution of reviews across SMB and enterprise reviews as a signpost of where a product may lie on this spectrum.
Start an identity management solution comparison
Pricing Information
Identity Management software vendors usually price per month per user. Some vendors sell tiers of functionality with enterprise-level pricing which can be as much as $35 per user per month. Others provide unbundled pricing allowing customers to buy capabilities such as multi-factor authentication or API access management as individual capabilities for specific users.
Frequently Asked Questions
How does identity management software work?
Identity management software tracks users' credentials and accounts in a central repository, enabling more centralization and security.
What's the difference between identity management and privileged access management?
Identity management enables privileged access management by providing the system of record for user's credentials and information. PAM then uses those credentials to assign specific privileges.
Does my business need identity management software?
A business should consider investing in identity management software if it leverages more than 1 or 2 protected systems with proprietary, sensitive, or business-critical data.
What are the benefits of an identity management system?
Identity management systems allow IT administrators to work more efficiently, saving time and money. They also improve business security, mitigating risks and potential breaches.
How much does identity management software cost?
Identity management software is most commonly priced per month, per user, up to $35/user/month for large deployments. Some vendors also offer specific features, like API access management or MFA, a la carte.