Disaster Recovery Software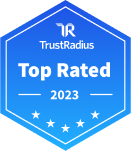 Top Rated Products
(1-5 of 7)
All Products
(1-25 of 167)
Explore recently added products
Videos for Disaster Recovery Software
What is Disaster Recovery?
02:35
Disaster Recovery is the plan and processes for quickly reestablishing access to data, applications, and IT resources after an outage. This video is an introductory look at the category, and how it may apply to your enterprise.
Disaster Recovery Software TrustMap
TrustMaps are two-dimensional charts that compare products based on trScore and research frequency by prospective buyers. Products must have 10 or more ratings to appear on this TrustMap.
Learn More About Disaster Recovery Software
What is Disaster Recovery Software?
Disaster Recovery Software is designed to provide business continuity and recovery following natural or man-made disasters and outages. The ultimate goal is to recover and restore data and applications in physical or virtual environments to their pre-disaster, functional state with minimal time and hassle.
Disaster Recovery vs. Backup Software
This is different to backup software, which only really ensures that data is replicated and stored somewhere so that it can be restored if data is lost or corrupted. Disaster recovery is about more than just data backup. Instead, it's about re-installing software and data on new machines and then configuring them with the appropriate settings and preferences.
Disaster recovery has become a little easier with the widespread use of virtual servers for daily operations. Virtual infrastructures are much easier to replicate across than more traditional data center architectures.
Data Center Replication
Data center replication is the main concept behind disaster recovery. There are three main types of data center replication.
Hot Site: A hot site is a mirror of the data center infrastructure. The hot site has servers and infrastructure, which run, concurrently with the data center, syncing with it to provide complete redundancy.
Cold Site: A cold site is just datacenter space with no servers or equipment set up. In order to be operational, extensive engineering and IT assistance is required to install servers and other equipment and migrated data and software.
Warm Site: A warm site is somewhere between the two. It will have pre-installed servers ready for installation of production environments, but that work must be done before the site is operational.
Metrics
Two important metrics determining what kind of data replication to choose are:
RTO – Recovery time objective. The target time between the moment of the disaster and the point at which users can work again.
RPO – Recovery point objective. This is the age of files that must be recovered from backup storage for normal operations and business continuity.
Pricing Information
There are a variety of pricing models in this domain, including charging by each GB of storage used, an average per user cost, or a per device model. Typical pricing ranges from $10 per instance, per month, up to several times that for larger-scale enterprise products.