Low-Code Development Platforms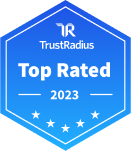 Top Rated Products
(1-5 of 6)
All Products
(1-25 of 202)
Explore recently added products
Videos for Low-Code Development Platforms
What is "no code" / "low code" development?
08:19
Tech Lead explains the no-code / low-code movement in this exciting video.
Low-Code Development Platforms TrustMap
TrustMaps are two-dimensional charts that compare products based on trScore and research frequency by prospective buyers. Products must have 10 or more ratings to appear on this TrustMap.
Learn More About Low-Code Development Platforms
What is Low-Code Development?
Low-code development platforms (or rapid-application development platforms) provide 'citizen developers' with tools to build simple process applications with little oversight. These tools simplify the application building process, and are frequently used for simple process applications.
The tools give businesses the ability to create simple apps without much technical know-how. The goal is to inject agility into what can be a complex and lengthy application development process.
These platforms are usually drag-and-drop environments. Components are connected like Legos allowing for a high degree of trial and error. Low code platforms are a reaction to traditional application development that are based on detailed system requirements and hand coding.
They still require some amount of technical skill, but low code tools can be easily learned. They are best for junior programmers or non-coders with some technical acumen.
Low-Code Platforms Features & Capabilities
Drag-and-drop design and development
Integration with other apps
Visual modeling
User management and team roles
Built-in workflow
Security
Reporting and monitoring
Pricing Information
Low code software is typically priced per user per month, in a subscription model.
The software can start as low as $25/mo. per user. Many tools offer under $100/mo. subscription levels. Enterprise level low-code software runs over $5,000/mo. Free trials are often available.
More Resources