Data Management Platforms (DMP)
Data Management Platforms (DMP) Overview
Top Rated Data Management Products
These products won a Top Rated award for having excellent customer satisfaction ratings. The list is based purely on reviews; there is no paid placement, and analyst opinions do not influence the rankings. Read more about the Top Rated criteria.
Data Management Platforms (DMP) TrustMap
TrustMaps are two-dimensional charts that compare products based on trScore and research frequency by prospective buyers. Products must have 10 or more ratings to appear on this TrustMap.
Data Management Products
(1-25 of 54) Sorted by Most Reviews
The list of products below is based purely on reviews (sorted from most to least). There is no paid placement and analyst opinions do not influence their rankings. Here is our Promise to Buyers to ensure information on our site is reliable, useful, and worthy of your trust.
Learn More About Data Management Platforms (DMP)
What are Data Management Platforms?
A DMP is a kind of data warehouse that sorts and stores information that is subsequently used by marketers and advertisers.
Data Management Platforms are one component of what is often referred to as "Ad Tech" or digital advertising technology. In addition to DMPs, Ad Tech includes things like:
Ad networks and ad exchanges (for automated buying and selling of ad inventory)
Ad Servers that that can host and serve display advertisements
Retargeting tools for showing ads to users based on actions recently made on the web
Demand side (DSP) and sell side (SSP) platforms which make it easier for advertisers to buy, and for media outlets to sell, display advertising. This can be on ad exchanges, ad networks, and other available inventory sources.
Demand-side platforms are most often used by advertisers and agencies to enable programmatic buying of display, video, mobile and search ads. These ads are purchased in a real-time auction, through a process known as real-time bidding, which happens automatically in milliseconds.
In practice, DMPs and DSPs are often sold as a single product. Many DSPs, for example, also include a DMP.
Data Management Platforms Features & Capabilities
Data Collection
Data Classification
Ad Network Integration
DMP Analytics
How DMPs Are Used
The most typical use is to house structured information from a number of different systems and organize it. Data is either at the customer level (if it's about your customers or prospects) or at the cookie level (if the person is unknown). Information about what customers have bought etc. is combined with demographic data to build segments or "audiences".
The basic idea is that this information about your various audiences is matched up with data provided by data vendors to help you find new prospects which look much like your existing customers. You are essentially buying a set of anonymous cookies that match up with your segments to buy ads against.
DMP Comparison
If you are considering purchasing a DMP, you should consider some of the following aspects of each tool:
Product Experience Features: Some DMP tools include support for product experience management, allowing businesses to see how users are interacting with their applications. For businesses that value these features, it is important to see which tools offer it.
Specific Use Cases: Many DMP tools offer support for specific use cases such as marketing. If your DMP tool will be used primarily by a certain department or for a certain use case, consider choosing a DMP tool that specializes in that arena.
Integrations: Some DMP tools include built in integrations with popular sales and marketing tools, while others require users to build their own integrations. Consider what your businesses capabilities with integration building are and what integrations you need when selecting a DMP tool.
Pricing Information
DMP platform pricing models vary based on the inclusion of different features.
Pricing involves many factors like monthly uniques, impressions, traffic, may include augmented third-party data, services offerings, advanced algorithmic modeling, etc.
As a rule of thumb, a minimum expenditure of $5,000 per month is typical.
The following Data Management Platforms offer award-winning customer relationships, feature sets, and value for price. Learn more about our Summer Best Of Awards methodology here.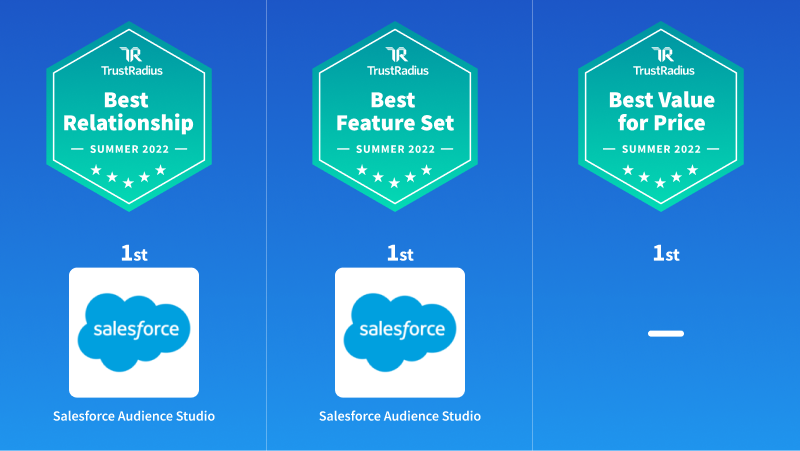 Frequently Asked Questions
What businesses benefit most from data management platforms?
Data management platforms are used by businesses of all sizes, and are most useful for businesses that want to provide sales and marketing teams with a greater level of access to business data.
What are the best data management platforms?
Some of the highest rated DMP options are as follows
Are there free or open source DMP tools?
There are some DMP tools with limited free versions, or time based trials. There are also a few forever free DMP tools, though they tend to have limited feature sets. The vast majority of feature complete DMP tools are proprietary tools.