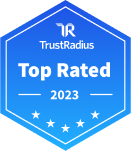 Top Rated Products
(1-1 of 1)
Picsart is an ecosystem of free-to-use content, tools, and inspiration from other creators. Boasting a billion downloads and more than 150 million monthly active creators, Picsart is available in over 30 languages, and is available free or as a subscription on iOS, Android and Windows…
All Products
(1-25 of 222)
Explore recently added products
Videos for Video Editing Software
Best Free Video Editing Software (DaVinci Resolve, Lightworks, iMovie)
03:59
Video editing software is needed for a variety of projects from filmmaking, to social media, to corporate, to personal. This video goes over some of the best free video editing software options for those on a tigher budget.
Video Editing Software TrustMap
TrustMaps are two-dimensional charts that compare products based on trScore and research frequency by prospective buyers. Products must have 10 or more ratings to appear on this TrustMap.
Learn More About Video Editing Software
What is Video Editing Software?
Video Editing Software allows users to produce video content, providing the tools to edit digital videos. The software facilitates nonlinear editing; snipping and trimming the video elements and combining them into any desired sequence. High-end video editing software offers advanced editing capabilities, video correction, audio editing, graphics, as well as visual and sound effects features. The completed video can be exported in multiple formats to video hosting and social media platforms.
The software is used to produce movies and documentaries, tv and streaming shows, YouTube videos, social media content, and educational videos. Businesses also use Video Editing Software to produce promotional videos. Other users include filmmakers, video production companies and engineers, marketing and content departments, vloggers, social media influencers, artists, and individuals.
Trends for video editing software include live video editing, supporting aspect ratios beyond the standard 4:3 or 16:9, and the use of AI for video production. AI offers design and corrective suggestions. Machine learning analyzes past editing experiences to improve AI capabilities.
A closely related category is cloud-based video collaboration tools that support rapid high-quality streaming and focus on organizing and sharing video content amongst video editors.
Video Editing Software Features
Basic Video Editing Software includes the following features.
Import digital videos
Drag and drop, nonlinear editing, snip, trim, move, and join video clips
Edit brightness, contrast, crop, and rotate
Support 4:3 and 16:9 aspect ratios
Export multiple video formats
Advanced Video Editing solutions add many of the following features.
Import video, audio, and image files from computers, mobile devices, and the cloud
Advanced editing and correction capabilities
Color correction, shading, and highlighting
Audio recording and editing
Visual and sound effects
Fast rendering
Stock video, music/audio library
Text and graphics
Overlays, video, picture, and text
Video design templates
Green screen
Screen and webcam recording
Premade and custom animations
Preset video adjustments
Closed captioning
4K support
360 degree and multi-cam support
Motion graphics
Video table of contents and chapters – direct access to specific scenes
Transform slide shows into videos
Live video editing
Support multiple aspect ratios
Mobile video editing
AI editing and machine learning
Workflow management
Asset library
Video content management
Video analytics tools for promotional videos
Integrations with animation software, video content management systems, and video marketing tools
Export directly to video streaming platforms and social media
Cloud-based
Video Editing Software Comparison
Consider the following when purchasing Video Editing Software
Use Case: Professional artists, filmmakers, and enterprise businesses require a high-end professional tool to create high-quality professional videos. Free or low-cost tools are suitable for YouTubers and social media influencers.
Free Software: Free proprietary video editing software has limited features that are best suited for modest projects or used as an opportunity to try out a product before purchase. Free open-source software does not have as many advanced features and does not offer formal customer support, requiring its users to research and troubleshoot any issues.
Ease of Use: Depending on its features, the software's ease of use ranges from simple to complex. Select a product that meets the requirements for your video productions. A tool that includes features beyond those you will utilize can add unnecessary complexity to your work and require a high level of expertise to use.
Platform: Some video editing software products are geared specifically for Mac or Windows users; others support a wider range of devices and operating systems.
Pricing Information
Pricing models include monthly and yearly subscriptions or one-time licensing. Depending on the features and number of users prices can range from $5 to over $1,000 a month. One-time purchases are usually in the range of $50 to $500 per individual license. Some vendors offer different rate scales for individuals, businesses, and governmental/nonprofit organizations along with volume discounts. Free versions with limited features are available. Free trials are also available.
More Resources
For more information on Video Editing Software, check out these posts on our B2B Buyer Blog:
Best Free Video Editing Software
Frequently Asked Questions
What does Video Editing Software do?
Video Editing Software helps users create, edit, and enhance digital videos. Its vendors offer a wide range of products and features that can support everyone from professional filmmakers and enterprise business marketers to vloggers and hobbyists.
What are the benefits of using Video Editing Software?
Video Editing Software produces high-quality professional videos. When the software is coupled with in-house expertise, it results in cost savings when compared to the cost of engaging professional production companies. Cloud-based solutions support collaboration and provide flexibility for anytime, anywhere editing.
What are the best Video Editing Software products?
These are some of the popular Video Editing Software products.
How much does Video Editing Software cost?
Monthly subscription prices can range from $5 to over $1,000 a month. One-time purchases are usually in the range of $50 to $500 per individual license. Free versions and free trials are available.